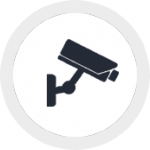 Residential and Commercial Intruder Alarm Systems
Our Intruder Alarm Systems can be monitored by our 24 Hour Central Station Monitoring Centre and be given Police Response should the need arise, combining product quality and advanced technology with simplistic operation our Intruder Alarm Systems use devices of the very highest quality, incorporating the most up-to-date technology our Intruder Alarm Systems meet all Insurance and Enforcement Legislation.
We aim to provide the best quality systems at competitive prices and to install them at the highest standards.
CCTV Installations and Maintenance
CCTV is now considered crucial in both crime prevention and detection. We offer specific expertise in the design and installation of sophisticated CCTV systems, which can be tailored to our customers individual requirements. CCTV provides the users with the ultimate deterrent that is both visible and effective.
DT Fire Systems can offer a wide range of CCTV systems from Domestic CCTV to complex Security Camera Systems for home and Business security. Our Digital CCTV systems enable non-stop recording on hard drives or on the cloud, higher image quality and 24 hour remote monitoring plus remote viewing of images via the Internet from anywhere in the world. We always use the best quality equipment to ensure the end result performs to the customers highest expectation.
If you require a security system, we can design, install, maintain and commission your system:
Contact us today to find out more by calling 0330 1226 999 or email us on sales@dtfiresystems.co.uk and we will be delighted to assist.