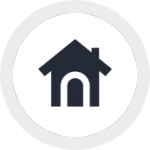 Nest is a popular smart home product that connects to your Wi-Fi network. Nest lets you control the temperature of your home using an app on your smartphone. It learns your temperature preferences over time so it can set the perfect temperature for the time of day for you. Nest also offers smart smoke and carbon monoxide detectors which are connected to your phone and notify you if there is ever a problem. You can use Nest cameras to monitor your home from your smartphone and to alert you if there is an issue in your property.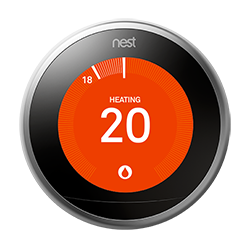 Nest Thermostat
The Nest Thermostat gets to know the temperature you like when you're at home and turns itself down when you're away. It learns how your home warms up or how draughty it is, so it only uses the energy it needs.
The Nest Thermostat also has Farsight; it lights up to show you the temperature, weather or time. You can choose a digital or analogue clock face for the system, depending on your preference. You can also control your hot water tank with the Nest Thermostat which means it completely replaces any existing central heating programmer.
Nest Protect
Nest Protect has an industrial-grade smoke/carbon monoxide sensor which tests itself automatically and lasts up to a decade. It's also the first home alarm you can silence from your phone without any extra hardware required. It tells you what's wrong and can even alert your phone. Nest Protect has a friendly human voice that gives you an early warning so you can handle any false alarms.
It's an important sensor to have as heating systems can cause carbon monoxide leaks which can be fatal. In an emergency, Nest Protect tells your Nest Thermostat to turn off the heating to keep the danger from spreading.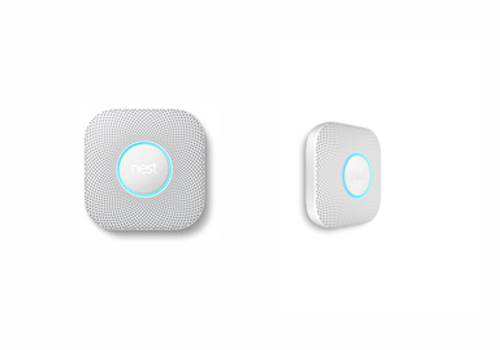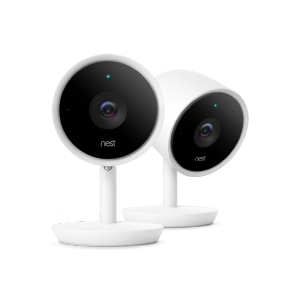 Nest Cam
All Nest cameras plug directly into the mains power supply, allowing for constant surveillance and prompt notifications to your phone. Nest Camera can also store up to 30 days of continuous footage in the cloud with Nest Aware subscription. Activity Zones can be set around areas of specific interest such where you will receive special alerts to your phone if anything happens within these areas.