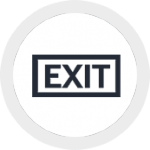 In the event of a loss of mains electricity due to either a fire or power failure, emergency lights are required in order to enable all occupants to leave the premises safely.
Emergency lighting must be tested regularly by the occupant and tested by a competent service engineer annually. The annual test must be carried out for the full rated duration of the emergency lights (3 hours). The emergency lights must still be operational at the end of this test. The results must be recorded and, if failures are detected, these must be remedied as soon as possible.
DT Fire Systems are able to design, service, maintain, and install emergency lights in any type of building. We can also advise you if any areas of your building require improvement.
As part of our maintenance work, we provide you with a full emergency light asset list. This list is built into our SimPRO management system by our on-site engineer during our initial maintenance visit.
DT Fire Systems usually carry out the required annual emergency light 'drain' test at the same time as our second fire alarm system maintenance visit. This limits the amount of disruption/inconvenience which may be caused to our customers during preventative maintenances.
If you require an emergency lighting system, we can design, install, maintain and commission the following for you:
To find out more about emergency lighting and how we can help you remain compliant, please contact DT Fire on 0330 1226 999 or email us on sales@dtfiresystems.co.uk and we will be delighted to assist.