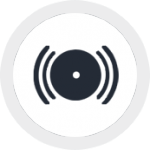 You will have specific requirements for the type of fire extinguisher you need for your premises dependant on fire risk posed. DT Fire Systems can carry out a full risk assessment prior to designing, supplying and maintaining all types of fire extinguishers. These extinguishers will be recorded on our SimPro management system for you as new assets which provides you with a full service history.
You have a choice between a standard red or a polished chrome extinguisher dependent on the look you require. DT Fire Systems can house your new fire extinguishers on a double or single stand or they can be wall hung on a specific bracket. If you require fire extinguishers externally then we can provide weatherproof cabinets for you.
All extinguishers supplied are supplied with a corresponding sign (either luminous or chrome dependent on your choice of extinguisher). The signage is photoluminescent so it can be seen in complete darkness, in compliance with the Regulatory Reform Fire Safety Order 2005. DT Fire Systems can also supply and install fire blankets which are required in any areas of the building where cooking takes place.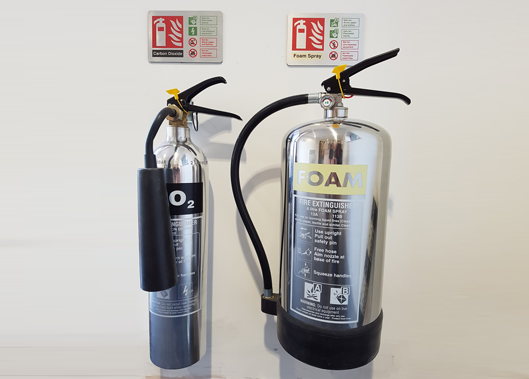 All your fire extinguishers should be maintained annually (in accordance with BS5306) and DT Fire Systems can do this for you, in line with the information held on our SimPro management system. If any of our installed or maintained extinguishers fail to meet the required standard or if they are out of service, we will advise you and replace it with a new extinguisher.
Types of extinguisher available:
Foam (for fires involving solid materials however these most suited for liquid fires involving petrol, diesel or oils)
Water (for fires involving solid materials such as wood, paper or textiles)
CO2 (for fires involving electrical equipment or for use on liquid fires)
Powder (a multi Purpose extinguisher that can be used on fires involving solid materials, liquid fires and fires involving gases)
Wet Chemical (this is suitable for use on fires involving fats and oils. It can also be used on solid materials and flammable liquid fires)
We supply and fit different sizes of extinguisher based on the size of your building and the individual rooms. Fire extinguishers are used to protect escape routes and are therefore usually located by exits and fire alarm call points.
To ensure your building is compliant with building regulations and people stay safe in the event of a fire, contact us today by calling 0330 1226 999 or email us on sales@dtfiresystems.co.uk and we will be delighted to assist.